Yediot Acharonot - Hanoch Ron 20.10.2002
SIMPLY SUPERB!
It was a stunning season opener. This production of Peter Grimes is one of the most facinating performances of this opera in the history of the Israeli Opera!
Jerusalem post 22.20.2002
...
exellent production.
..
will become one of the seasons highlights!


Ora Binur, Maariv 20.10.2002
The Beauty and The Power
...
one of the most amazing and intensive theatrical operatic productions I have seen..
...
renewing director Kristiina Helin and conductor Gary Bertini outdid themselves and created the most amaizing and powerful combinations of an operatic production that is also theatrical...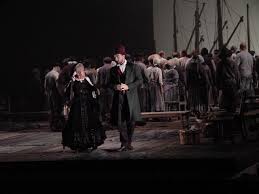 NEW ISRAELI OPERA TEL AVIV israel

Peter Grimes by Benjamin Britten
New Israeli orchestra and chorus
Conductor Gary Bertini/ Eitan Globrson
redirector/with new cast Kristiina Helin
(director for Finnish National Opera: David Radok 1998).
Set- and costume design Tazeena Firth
Light design Kimmo Ruskela, Tazeena Firth and Kristiina Helin
House assistant director: Gadi Shcechter
2nd assistant director : Niv Hoffman
Peter Grimes: Michael Myers/Jan Vacik
Ellen Orford: Janice Cairns/Larissa Tetulev
Balstrode: Donald Mcintyre
Auntie: Edna Prochnik
First niece: Sharon Rostorf-Zamir/Ira Bertman
Seccond niece: Riki Guy
Bob Boles: Philip Doghan
Swalllow: Vladimir Braun
Mrs Sedley: Cynthia Buchan
Ned Keene: David Adam Moore
Hobson: Sorin Semilian
Adams: Yotam Cohen